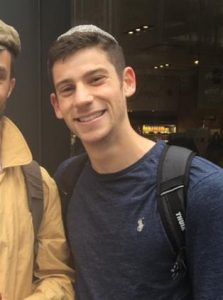 Yosef Itzkowitz is a student at The School of Visual Arts and an Advisor with New York Yachad.
Avi Feder: When was your first introduction to Yachad?
Yosef: Leora Zomick, a girl I had never heard of, randomly sent me a message to come out. I went. It was awesome!
Avi: What is something you are looking forward to in Yachad?
Yosef: The very next shabbaton! They're all a blast – can't start comparing.
Avi: What is your favorite part of Yachad programs?
Yosef: Kicking it back with the members after dinner.
Avi: What is your favorite Shabbos food?
Yosef: The coffee that the host family on Yachad Shabbatonim always have set up for us.
Avi: How about favorite Yachad Swag item?
Yosef: The lil blue taffys in the advisor snack bag.
Avi: What's something we wouldn't have known but is a hidden talent of yours?
Yosef: I'm actually the loudest Shhhhh'sher in America.
Avi: Can you tell us about your personal highlight of Yachad involvement?
Yosef: Meeting all sorts of exciting and unique people.
Avi: Before we're done, what's one fun fact about you?
Yosef: I eat cream cheese on crackers almost every morning for breakfast.