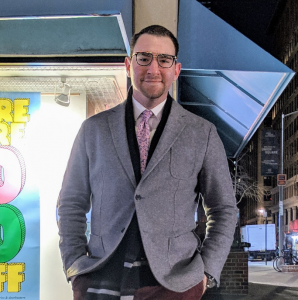 Shmuel Tannenbaum is a student at Yeshiva University and a Coordinator for the Junior Division of NY Yachad.
Avi Feder: When was your first introduction to Yachad?
Shmuel Tannenbaum: My first involvement with Yachad was in high school. I used to attend Shabbatons all the time with my friends; we would all be peers and participate in the Shabbaton activities together. That's where I really got into Yachad.
Avi: What is something you are looking forward to in Yachad?
Shmuel: Family Shabbaton!
Avi: Have you ever run with Team Yachad?
Shmuel: Yes, Jerusalem Marathon in 2017.
Avi: What is your favorite part of Yachad programs?
Shmuel: Meeting and forming meaningful relationships with all the advisors, members, coordinators, and staff.
Avi: What is your favorite Shabbos food?
Shmuel: Easy call. Gotta be schnitzel.
Avi: How about favorite Yachad Swag item?
Shmuel: The drawstring bag that converts into a pouch. SUPER handy.
Avi: What's something we wouldn't have known but is a hidden talent of yours?
Shmuel: I'm a comedian, impressionist and rapper (@sjtheimpressionist on Instagram, + @sjtherapper417 on Instagram and SJ Tannenbaum on Facebook & YouTube).
Avi: Can you tell us about your personal highlight of Yachad involvement?
Shmuel: I love running the Rap Game in circle time.
Avi: Before we're done, what's one fun fact about you?
Shmuel: I tried out for America's Got Talent Season 10 and my audition tape is on YouTube! You can check it out here.