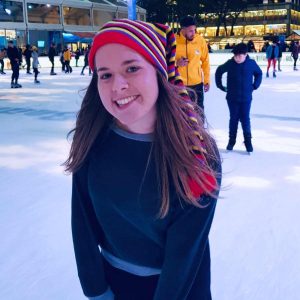 Malki Infield is a student at Touro College in Manhattan, the Girls Head Counselor at Camp Yachad Mesorah, a Coordinator for New York Yachad, works as a Manager of Advisor Outreach and most recently staffed our Yachad – Israel Free Spirit Birthright Trip*.
*Note, this interview was conducted with Malki standing next to me in the office, also playing soccer** with her fellow Yachad Israel Free Spirit Birthright Staff.
**No windows were harmed in the making of this interview, although the ball hit my desk a few times and my fish got scared 🙁
Avi Feder: When was your first introduction to Yachad?
Malki Infield: Sam Gelman told me I should come on a Shabbaton once – the weekend he was talking about was one when I didn't have any Shabbat plans so I was like sure, why not?! I went on that shabaton (Go juniors!!) and I never looked back!
Avi: What is something you are looking forward to in Yachad?
Malki: Summer in Camp Mesorah, and also the Family Shabbaton with Yachad #ComeThrough
Avi: What does that mean?
Malki: It means they should come join.
Avi: Oh, ok, We'll open up registration for that after Pesach.
Avi: Have you ever been to a Yachad Shabbaton outside of NY?
Malki: Does Israel count – Birthright -10 days!
Avi: Have you ever been part of Yachad Summer?
Malki: Moshava California; I had a camper and Voc members.
Avi: Have you ever run with Team Yachad?
Malki: Kinda. I signed up for the Jerusalem Marathon but then I slept in and missed the whole thing.
Avi: What is your favorite part of Yachad programs?
Malki: Circle time duh! I look forward to it all week!! And I flat out love my Chicken Nuggets. I legit eat them in the morning.
Avi: Aren't you worried about being Flieshig all day?
Malki: Nah, I wait 3 hours. Although the other day, I ate beef jerky at 8 AM and then was Fleishig all day cuz I just are a piece every 3 hours.
Avi: What is your favorite Shabbos food?
Malki: Potato Kugel. And Chicken Soup. Note, not together. But yeah, Potato Kugel and Chicken Soup.
Avi: How about favorite Yachad Swag item?
Malki: Yachad Sweatshirt
Avi: What's something we wouldn't have known but is a hidden talent of yours?
Malki: I can recite the Alphabet backwards. I practiced in 8th grade – I was so bored during Hebrew class.
Avi: Can you tell us about your personal highlight of Yachad involvement?
Malki: Getting to know my members.
*Malki asked to put a heart here: <3
Avi: Before we're done, what's one fun fact about you?
Malki: My dad is a singer and member of Shlock Rock Band. One of the original 3 – he started it in High School with his friends!