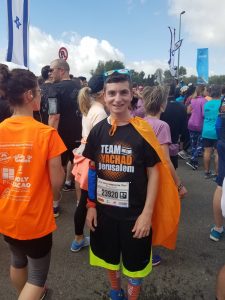 Benjy Aryeh is a student at Yeshiva University, a self proclaimed Yachad Swag model, and a Summer Counselor / Advisor for Yachad Summer Programs and NY Yachad.
Avi Feder: What was your introduction to Yachad?
Benjy Aryeh: When I was a little boy my dad was the the youth director in our shul. Every year when Yachad had their West Hempstead Shabbaton, my family and I went to the Shabbos night meal with Yachad and I have been involved with Yachad ever since!
Avi Feder: What is the next Yachad program you are looking forward to?
Benjy Aryeh: Yad b'Yad Trip 1 in the HOUSE!
Avi Feder: Alright, so you're on Yad bYad this summer, and the bus is gonna pull into a rest stop. You've got 1 chance to buy an ice cream / ices to buy, what is it?
Benjy Aryeh: One of those that have a toy inside of them. I have a whole shelf of little minions from the Despicable Me Minions ices. They haven't released a new movie in over 2 years but for some reason the minions are still really popular in Israel.
Avi Feder: Tell us about your involvement with Yachad Summer Programs?
Benjy Aryeh: I went on Yad b'Yad after 10th grade in 2015. I worked as a fellow the next year in Camp Mesorah and then last summer I went on Yachad Getaway – which is a SICK PROGRAM so for all you guys out there sign up – and this summer I am doing Yad bYad as a counselor!
Avi Feder: Have you ever been to a Yachad Shabbaton outside of the Tri-State area?
Benjy Aryeh: I went on the Family Shabbaton is LA and Chicago this year and I did Yachad Israel last year and went to all of their shabbatons too.
Avi Feder: Have you ever run with Team Yachad?
Benjy Aryeh: Yes. Jerusalem Marathon is where it's at! I wanted to go to the Miami marathon in 11 grade but my family was already going to Las Vegas so that didn't work out.
Also, funny story: When I was ready to go to the pasta party for the Jerusalem marathon, there were protests in the streets of Jerusalem and it caused all of the roads to be clogged up with traffic and no cars could drive through. Because of this I knew that I was not going to be able to go to the Pasta Party. So instead of being upset about it I took out my pot and burner made my own Pasta Party in Yeshiva.
Avi: What is your favorite part of Yachad program?
Benjy Aryeh: Very Pashut, the slow shirah to close out shabbos
Avi: What is your favorite Shabbos food?
Benjy Aryeh: White Rice
Avi: How about favorite Yachad Swag item?
Benjy Aryeh: This is the toughest question to answer. I have so many different random swag items that are so cool I can't decide between them which one is better. It's either the YBY backpack, Jerusalem Marathon socks or the Yachad Cape, a rare collectible item.
Avi: What's something we wouldn't have known but is a hidden talent of yours?
Benjy Aryeh: I have very quick reflexes. If you knock something off a table with me in the vicinity, I will most likely catch it.
Avi: Can you tell us about your personal highlight of Yachad involvement?
Benjy Aryeh: Good question. There have been so many incredible moments that I have witnessed or have been a part of over my billion years of involvement with Yachad. (eats dinner while thinking over his answer for 10 minutes)
When I did YBY as a participant in 2015, we went zip lining and repelling. I remember going on the bus and wondering how we would be able to do this activity since we had 2 people in wheelchairs and this activity isn't a wheelchair accessible activity. Well I was wrong. Anything is possible with Yachad! The workers figured out a way to tie the straps around the wheelchair and give those participants the ability to go down the zip line. Not only that but when it came time for repelling, they connected two people together so that the person in the wheel chair could also go down. It was such an incredible moment.
Avi: Before we're done, what's one fun fact about you?
Benjy Aryeh: I've got so many. Here we go:
I wear my watch on my right hand even though I am a righty.
I don't eat chicken on the bone but I do eat boneless chicken.
I can't stand when people spell my name with an "I".
I love the rain.
I have picked out the past 2 couches that my family has bought.
And lastly, I am very picky when it comes to buying clothing.