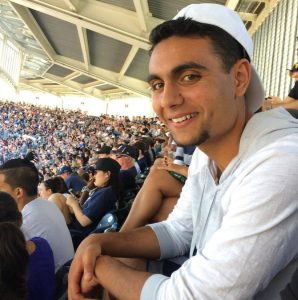 David Zakaim is student at The College of New Jersey and a Coordinator for New York Yachad's Rayim division.
Avi Feder: What was your introduction to Yachad?
David Zakaim: Um, do I mean first event, or how I got involved?
Avi: Both.
David: Avi Kirshtein called me up and spoke to me about it back in August of 2017 and it was really cool. He was roommates with my cousin and when I was in High School he used to come to my house for Shabbos together with my cousin. He knew I was interested in Special-Ed so it was a natural fit.
Avi: What is the next Yachad program you are looking forward to?
David: Not really a Yachad event but a family from Yachad is having me fly out to Cleveland for a Bar Mitzvah so I can accompany their Yachad member child on the weekend.
Avi: What is your favorite part of Yachad program?
David: My favorite part of a Shabbaton is Shabbos afternoon when there is time to play games and really talk, see how everyone's doing and catch up with everyone.
Avi: What is your favorite Shabbos food?
David: Cholent.
Avi: Are you Sfardi?
David: It's a long story.
Avi: We got time…
David: Ok. So when you say Shabbos food, a lot of the food people eat on Shabbos we eat during the week too, but cholent is the only food unique to Shabbos that we don't eat during the week.
Avi: Cool explanation, but I was asking more like Chamin vs Cholent.
David: Oh, yeah. My mom is Ashkenaz, so we have real Cholent in my house.
Avi: How about favorite Yachad Swag item?
David: Sweatshirt-Backpack-Zip up.
Avi: What's something we wouldn't have known but is a hidden talent of yours?
David: I was a varsity Track athlete in High School.
Avi: Can you tell us about your personal highlight of Yachad involvement?
David: On the Family Shabbaton a few weeks ago, I was watching as one of the members just walked up to a random family and began a conversation. It was really nice to watch unfold because I've known this member for a while now and he was the first member I spent a Shabbaton with, so it was really nice to watch another family get the opportunity to converse with him and see him meet new people.
Avi: Before we're done, what's one fun fact about you?
David: My English name is David but my Hebrew name is Shmuel Avraham, nothing to do with David.